Sidcup Lapidary & Mineral Society

2010 Christmas Fair
On 20th November 2010, despite sickness affecting a few of the members a determined team assembled at around 7am to open the Emmanuel Church Hall and set up the tables for our annual Christmas Fair.
A grand selection of Mineral samples, Crystals, Fossils, Gemstones, Jewellery and other giftware items were made available to the public who began trickling through the doors at the opening hour 10am.
Tea, coffee and refreshments were available as normal, as were our normal club display tables, raffle and "gold mine".
The club had a couple of tables offering an insight into some of the things we get up to as well as offering some very reasonably priced bags and boxes of polished pebbles and tumble / cabochon rough.

Paul put on a display of self collected and polished agate items which attracted a lot of attention.
Roderick was there with his usual array of cut gemstones and crystal specimens for the jeweller and collector with friends Dean and Jhinpa offering minerals and polished / fashioned natural stone items also for collectors but much of it ideally suitable for Christmas gifts.
Sigrid came along with her son Matthew. They had a good range of cut gemstones suitable for the budding jeweller along with a few Christmas gifts, a box of malachite and chrysocolla specimens from the Congo and some Mexican geodes ready for cracking open!
Jeremy had for sale a number of self collected british minerals and fossils as well as bags of rough lapidary material which folks could rummage through. He also had an interesting selection of antique and old glass bottles resurrected from local digging. Most seemed to be in good condition despite having been buried in the ground for some decades.
Were there any bottle collectors there on the day?
The Displays
Graham had an assortment of things for sale including jewellery and jewellery findings, a few micromounts, some interesting second hand geology text books and a few minerals.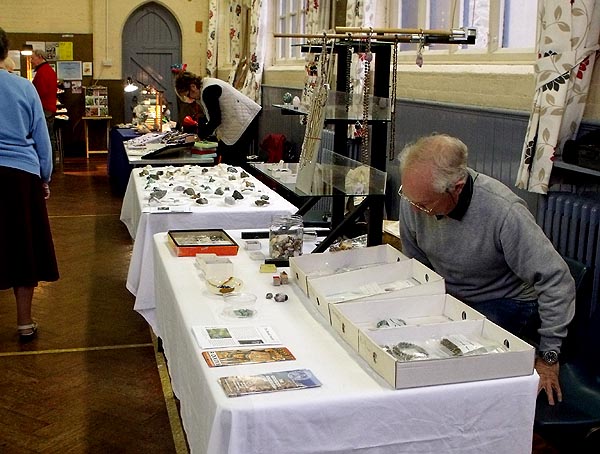 Graham settling in for a busy day.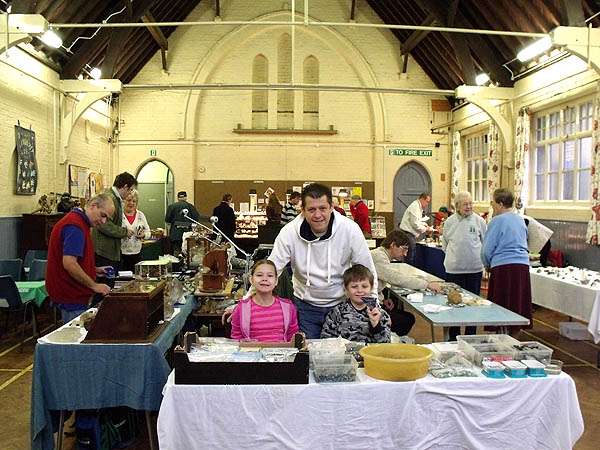 Paul with his two children manning one of the club stands.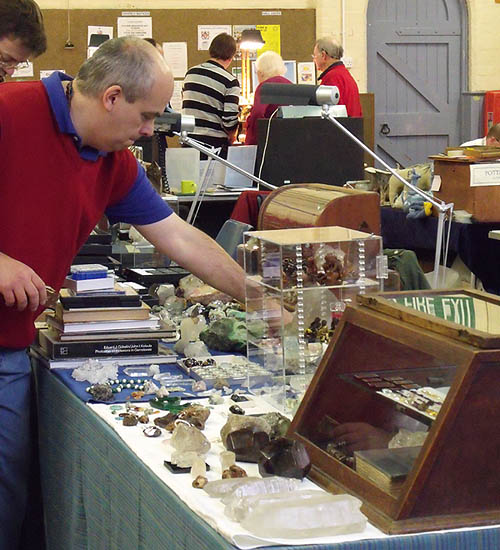 Jhinpa setting up his dislay.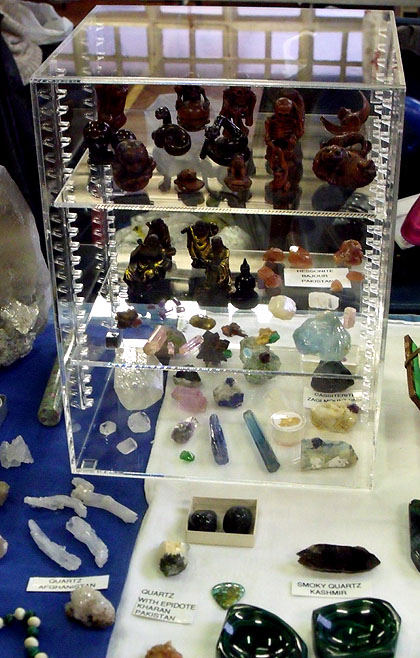 A close up of his cabinet filled with rare and unusual crystals and carvings.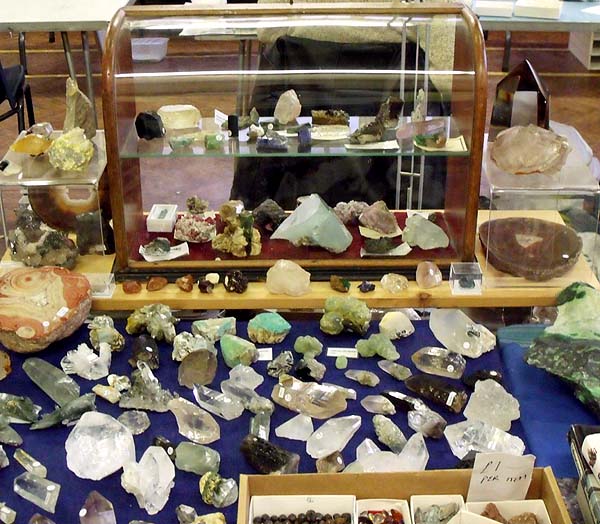 Just some of the goodies on Roderick's stand.

A large fossil ammonite dominated Dean's display.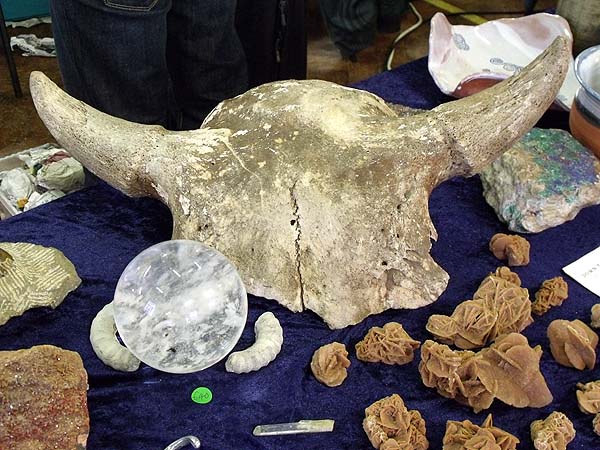 More unusual items on Dean's display.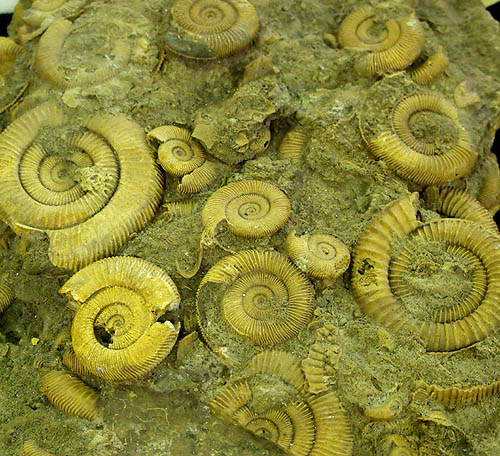 Close up of a group of German Dactylioceras ammonites.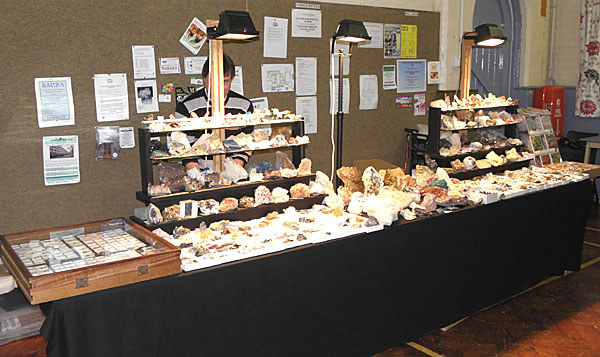 The Harlequin Minerals display.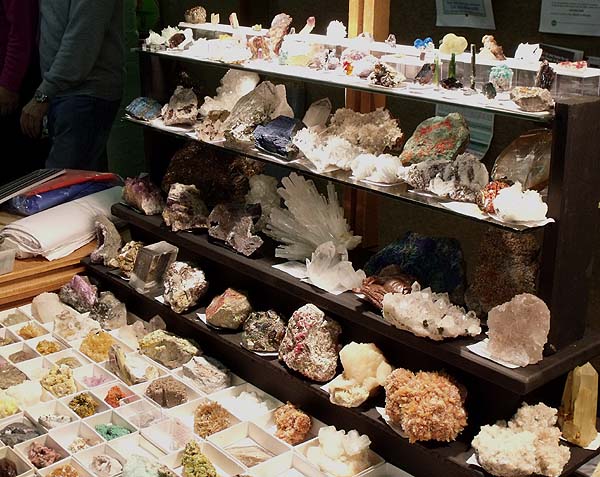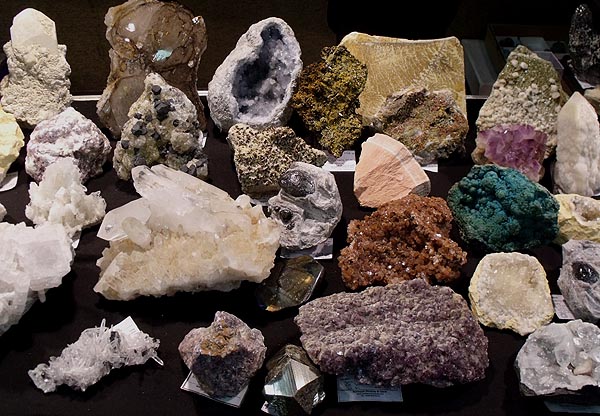 Detail of some of the larger pieces.

This year the club put on a small fluorescent mineral display.
"Minerals that glow in the dark"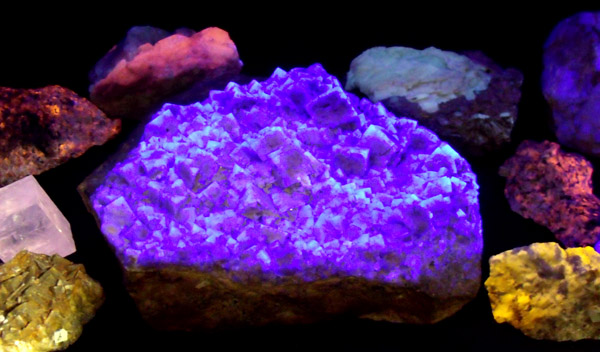 A large Fluorite from County Durham typically glowing purple under Long Wave Ultra Violet Light.

An assortment of minerals glowing bright colours under short wave UV light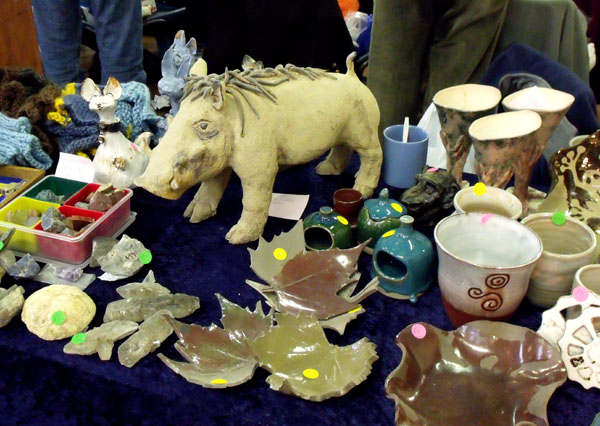 An assortment of minerals , fossils and pottery on Niki's stand.
We also had a display of jewellery from some of the folk at the local jewellery making school. Some interesting and innovative designs were for sale. A number of the students from the school also visited the show, presumably to find nice stones to fit into their own personal creations.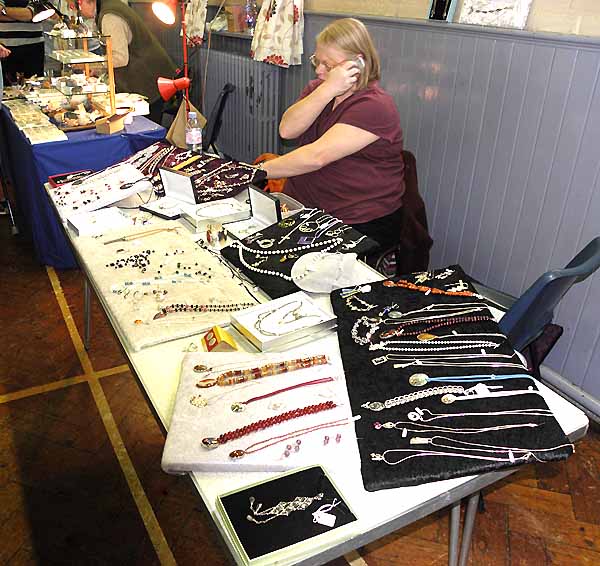 A display of hand made jewellery by some of the members of the local jewellery school.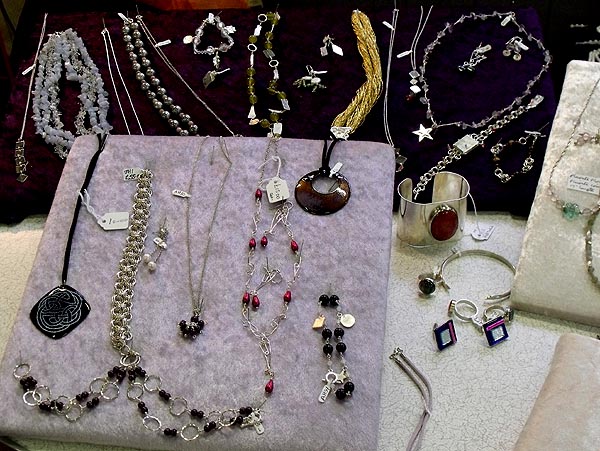 Detail of some of the jewellery.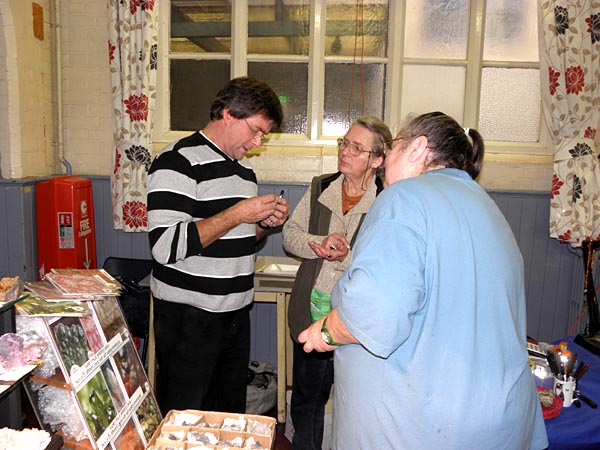 A polished item under scrutiny.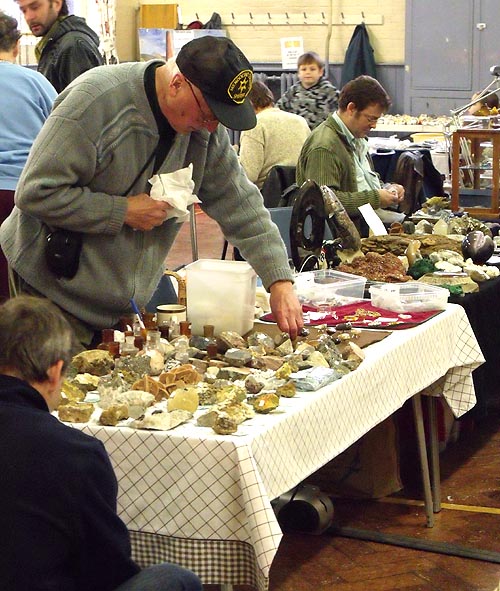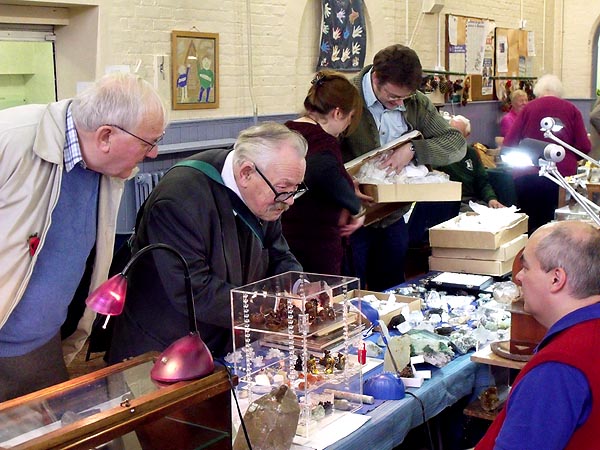 Collectors and members eagerly examining minerals on Jhinpa's and Roderick's stand.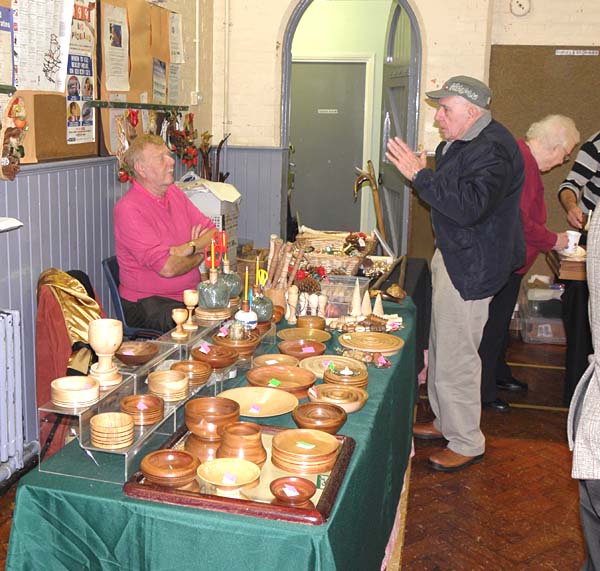 Geoff's display of hand turned wooden objects all at reasonable prices.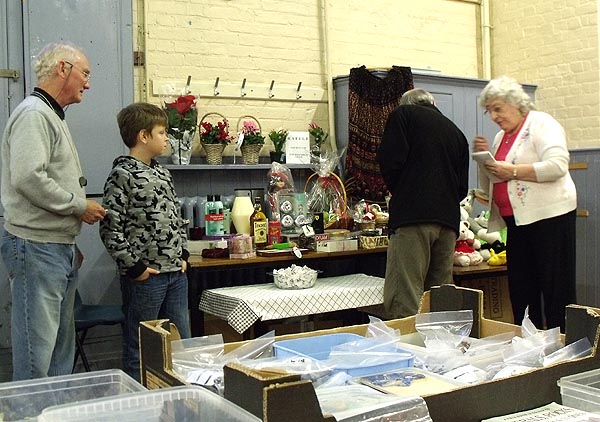 The raffle prize giving in full swing.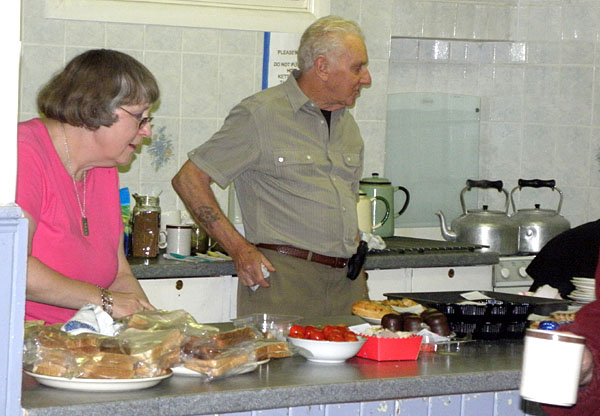 Perhaps the most important stand.
Refreshments for all!
Carol and John at the helm.
Thanks go out to all those who arrived early and worked to make sure the event went according to plan and special thanks to all who provided the sandwiches, cakes and refreshments for those who visited. Particular thanks go to Carol and John who worked so hard in the refreshment kitchen all day long, and to Les for manning the UV display stand for the day.