Some other Bi-coloured and multi-coloured minerals:
Green and pink Tourmaline from Afghanistan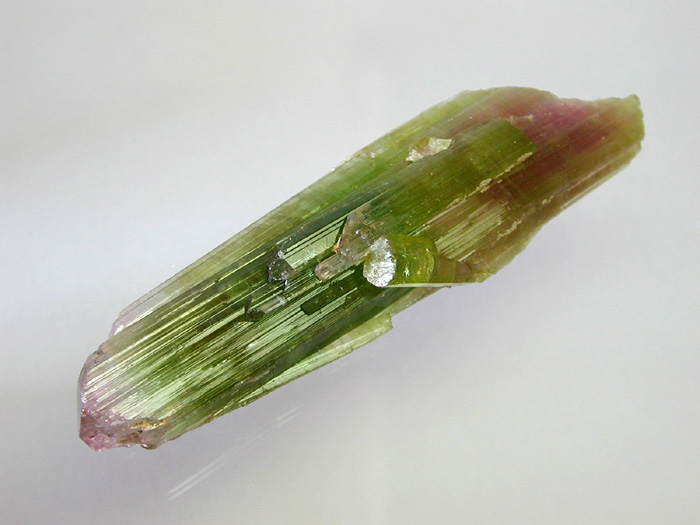 Two images of a small group of Tourmaline crystals from The Aracuai District, Minas Gerais, Brazil.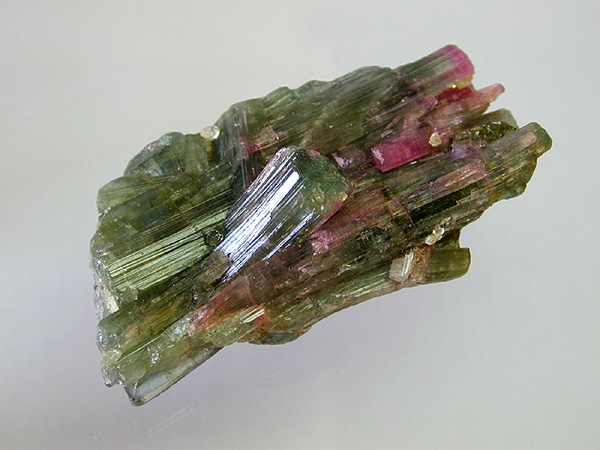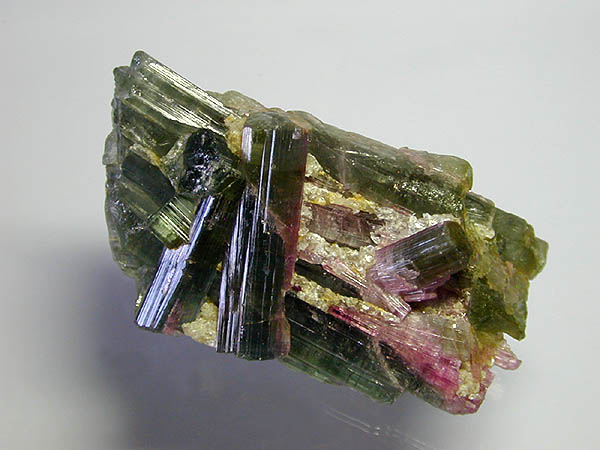 Perhaps not immediately obvious from the photo, this quartz crystal from Brandberg, Namibia shows color zoning from completely colourless at the tip to lilac (Amethyst) with Smokey quartz patches.
The small "tufts" along the back edge are prehnite groups.
The whole piece is a bout 60mm long.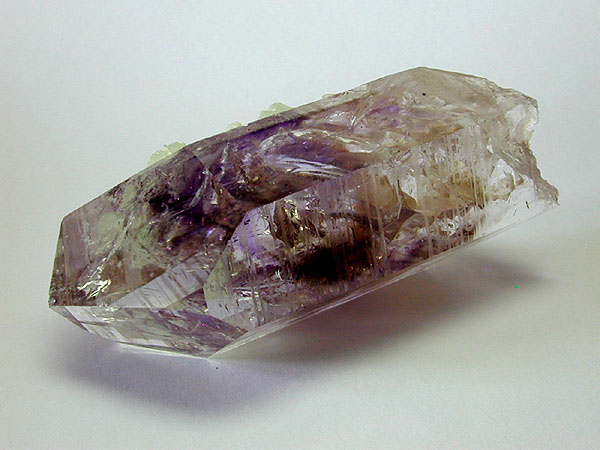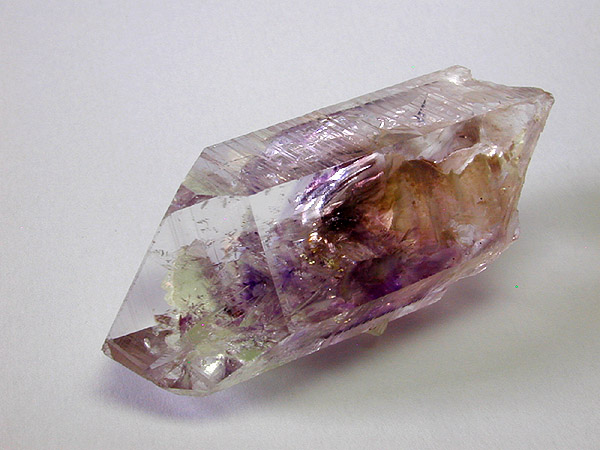 Perhaps one of the rarest forms of tourmaline from the Paraiba deposit, Brazil.
A rather fragmented piece (far from gemstone quality), the electric blue colour is caused by copper.
Notice the colour change towards the edges to a black "skin". Areas of pink tourmaline are also visible.
The matrix (white material) towards the back is quartz.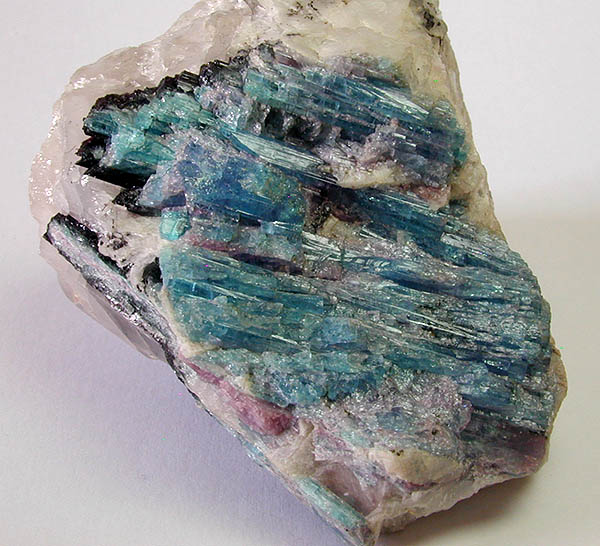 The Anjanabanoina pegmatites of Madagascar have produced some of the finest tourmalines ever found, some as very large crystals.
When cut and polished into slices some reveal a complex multicolour internal pattern which is not easily seen from the outside of the original complete crystal. Notice the green "rind".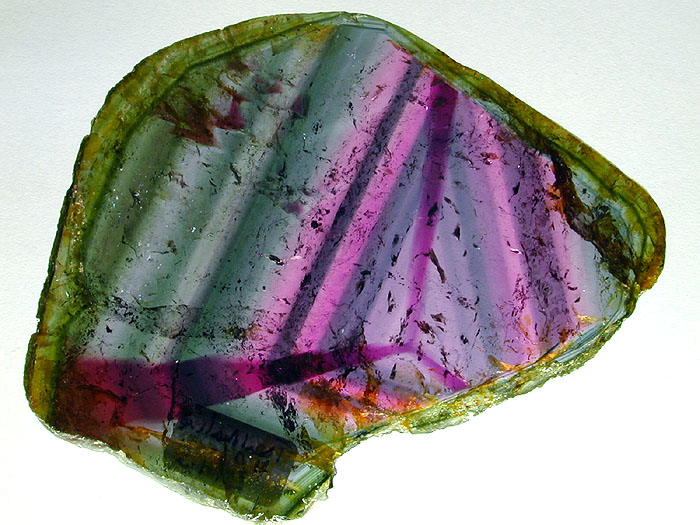 Detail of above: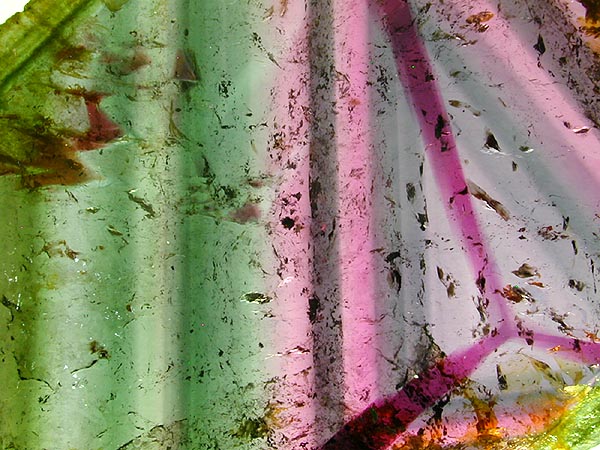 Another more uniformly coloured "Watermelon" tourmaline crystal slice from an unknown location: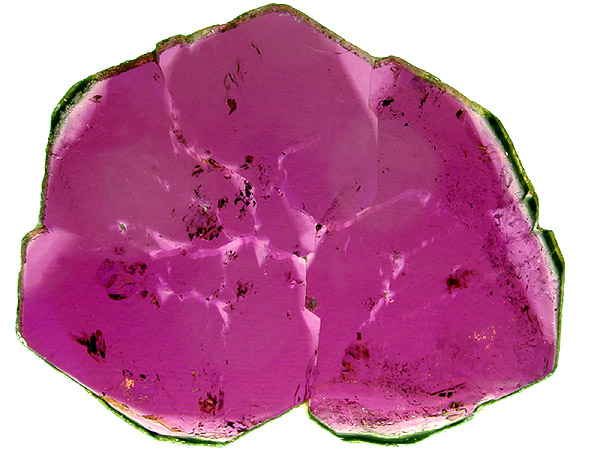 Detail of green watermelon "skin" on magenta core: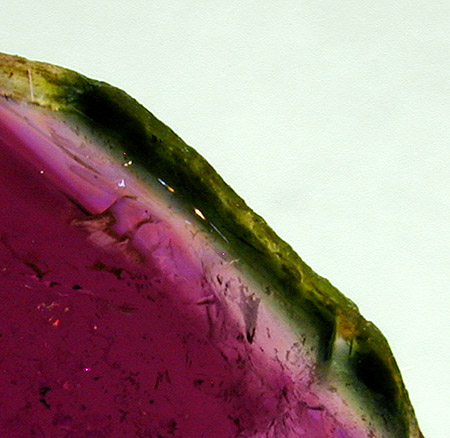 An unusually strong colour zoning in a small Kyanite crystal from Brazil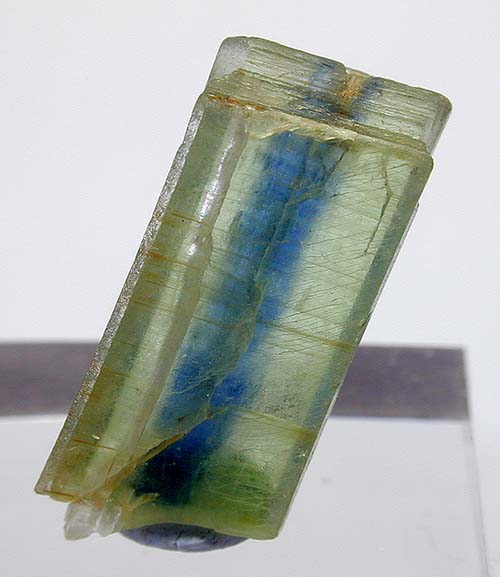 A multi-coloured example now, although this is cheating a little really.
Labradorite Feldspar from Madagascar.
The colours produced as a surface sheen on this mineral are not from "body" colour.
They are produced by the interferance of light caused by ultra thin sheets of another feldspar, only seen when the rock is held at a certain angle.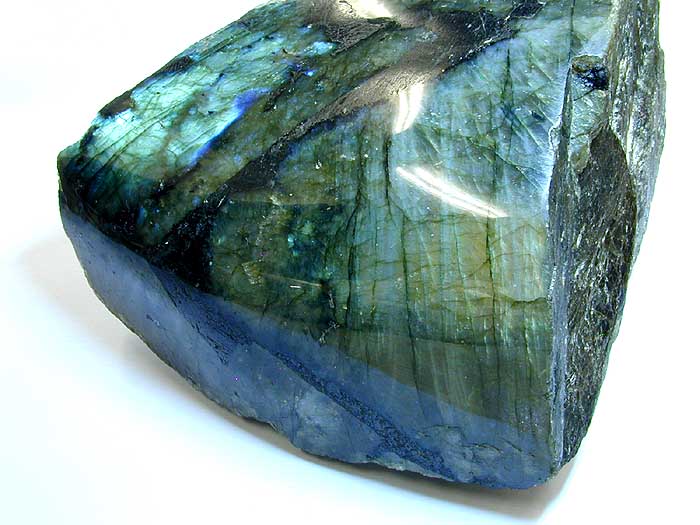 A little closer !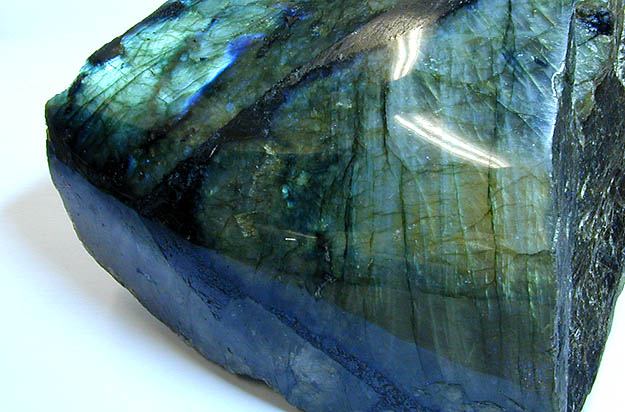 More Tourmalines !
Nigerian tourmalines aren't easy to come by as most of them are so good they end up in the cutters hands. This remarkable crystal escaped perhaps because it maybe too pale.
Although small (around 20mm long) and entirely transparent it is colour zoned with a pale pink band in the centre and a very unusual and very thin dark ink blue termination.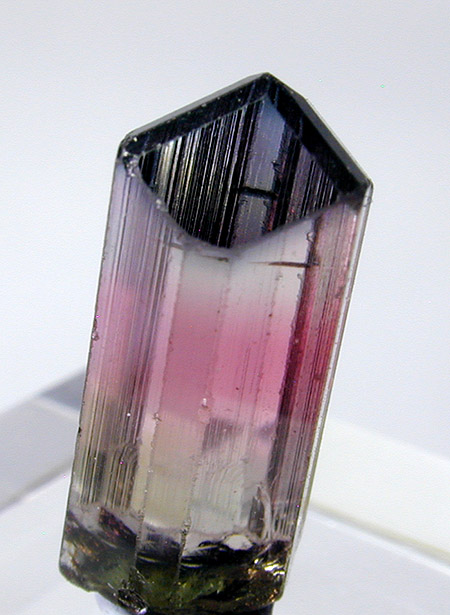 Another view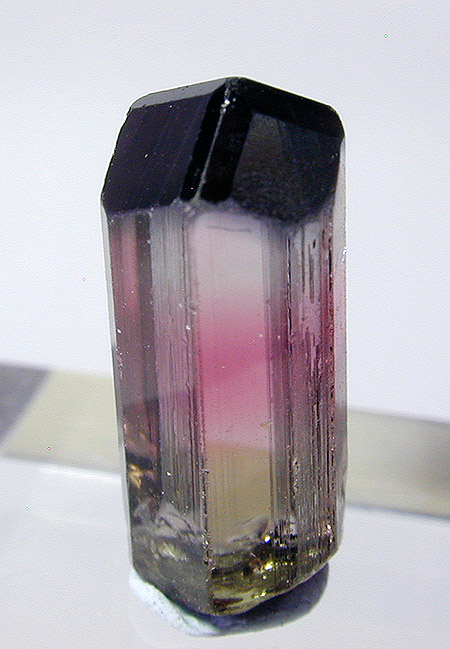 Although to a minor degree bicoloured (Each end of this double terminated crystal are a slightly paler greenish hue as opposed to the near black centre section),
the real curiosity of this crystal is its twisted shape.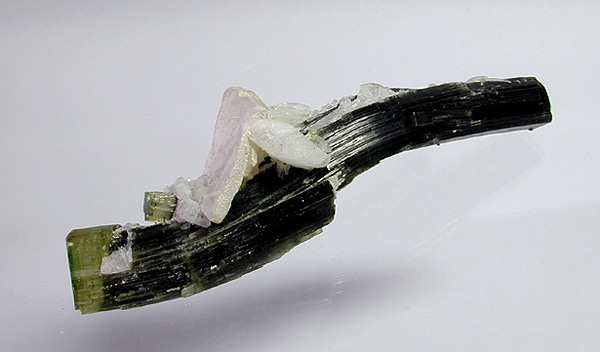 Another view to show the attached Muscovite and feldspar.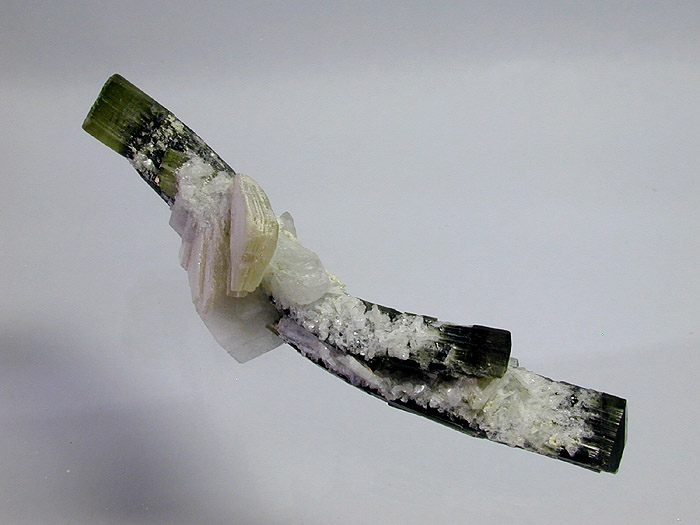 A small pink and green tourmaline from Aracuai, Minas Gerais, Brazil.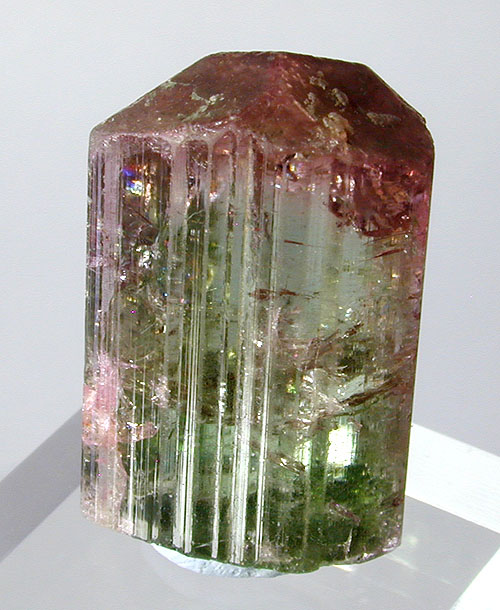 Two remarkable Tricoloured Tourmaline crystals from the well documented Sapo Mine, Minas Gerais, Brazil.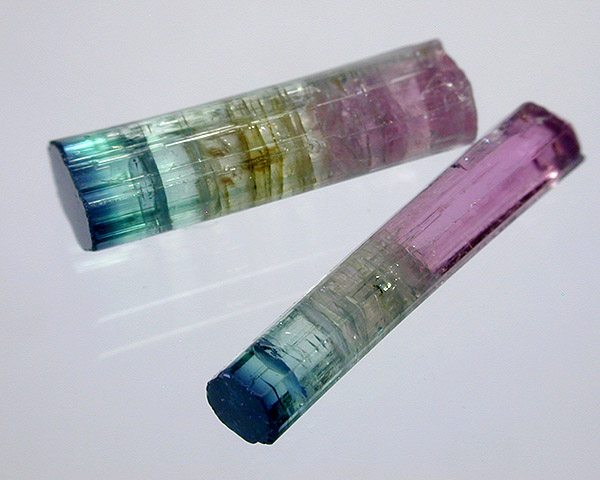 And finally a selection of small bicoloured crystals from Brazil, all terminated: