Sidcup Lapidary & Mineral Society
A TRIBUTE TO ROY TAMPLING
who died on
February 7th 2012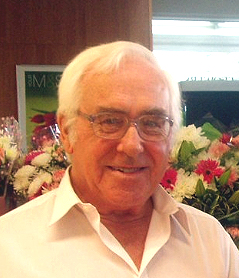 Roy Tampling
Roy Tampling died on February 7th 2012 after complications with kidneys, heart and other organs. He had been ill since July 2011, and although he was able to come home, and seemed to be progressing, he was plagued with various 'bugs' with which his immune system could no longer cope.
Eventually Audrey got him into the local Hospice where he spent his last six days.
He had been a very active member of the SLMS for 37 years, serving on the Committee, and looking after the Club machinery.
He went on many of the club's Field Trips collecting both minerals and fossils.
He taught the members how to make a cabochon. He also judged the cabochons and other polished specimens, submitted by members, for the Field Trip Competition each Christmas.
He was also very keen on faceting gemstones and had several members round to his home to teach them the art.
He produced some very professional gems.
He was always willing to help at our club Shows and other events.
Before he died he was very proud to have been made a Life Member of the Club for his contributions over the years.

Roy will be sadly missed.

-------------------------------------------------

Also sadly missed is Roy's wife Audrey Jean Tampling who passed away on
June 11th, 2012 after a long fight against cancer.