Sidcup Lapidary & Mineral Society
A TRIBUTE TO KEN LUFF
who died on
March 21st 2006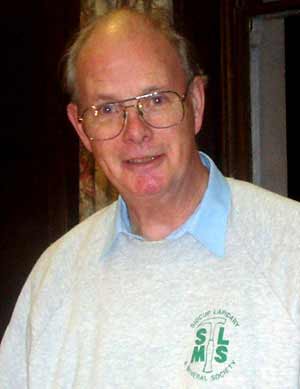 Ken was the unlucky one in a million to have sporadic CJD (Creutzfeldt-Jacob disease).
This is a very rapid and debilitating disease where the prions destroy the brain and the victim becomes paralysed in a matter of weeks.It was very sad to watch such a fine, apparently healthy, man go down day by day.
It was agony for his wife Sigrid and son Matthew to see him almost daily and knowing that nothing at all could be done for him. There is no cure.
He will be sadly missed by so many people.
He was known by so many stallholders at the Rock and Mineral Shows. He was Chairman of four Societies.
He took an interest in SSSI sites.
Whenever representation was required he was there for our society (SLMS) and presumably the other bodies that he represented.
Nowadays there is a lack of enthusiasm for volunteers to take on these onerous jobs.
So Ken did them!
"I know that nobody is indispensable but there are some people who come very close to it and Ken was one of them"

Audrey Tampling